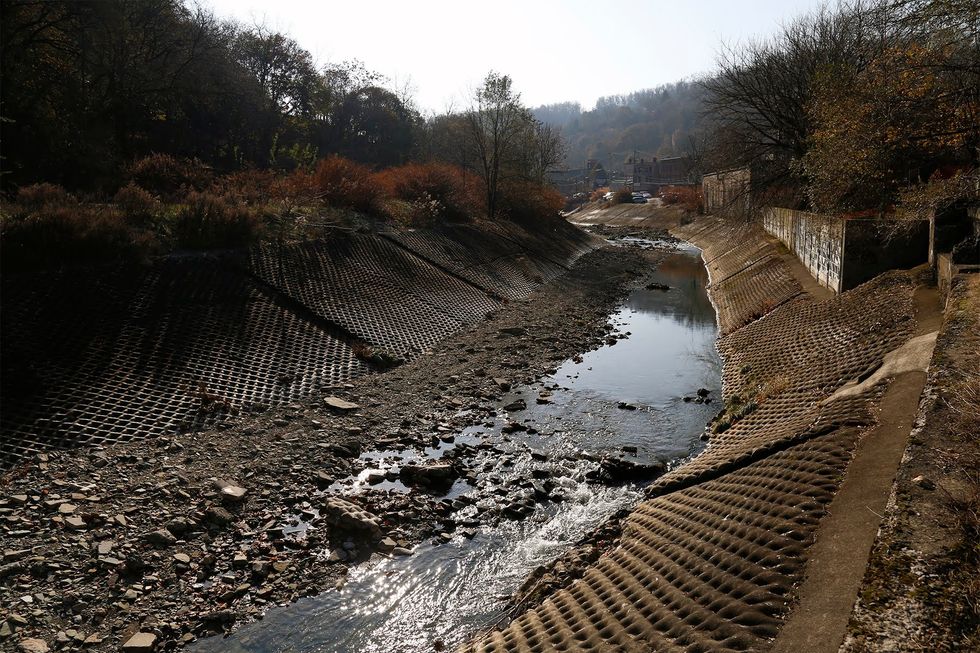 Good news, this blog was featured in an article last week published by Public Source and Environmental Health News about the challenges of regional flooding. If you have not read it yet, get busy doing so. It's great. Click here or here.
I think it goes without saying, and obvious to all, that press coverage is vitally important. The press can help unknown semi-insignificant people (e.g. me) spread their message to a larger audience. And just maybe, if that content gets into the hands of the right people, lasting positive change can occur.
Bottom line, without the press I may as well just save up my complaints for the annual "Airing of Grievances" and tell them to Frank Costanza's aluminum pole.
"I got a lot of problems with you people."
Just take a minute and think about about all the major changes in the history of this country. At the heart of these changes are the courage of individuals. But at the soles of their feet, at the foundation, are the press. The press give their message traction by helping spread awareness which can then snowball into larger movements.
It's of no surprise that the highest amount of traffic to date to this blog has occurred in the days since Public Source and Environmental Health News published the article. Also, the number of new subscribers to the blog increased by a whopping 50%.*
It's vital to have actual professional journalists helping spread the word on the issue of systematic and chronic flooding in the Pittsburgh region. Make no mistake about it, I don't pretend to be a journalist and never will. And only sometimes I would consider myself even "professional." That's why you have a Seinfeld reference at the beginning of this blog post.
I'd like to thank Oliver Morrison, Public Source, and Environmental Health News in taking the time to increase the spotlight on this issue, lending it credence, and giving it the professional coverage that it deserves. I would highly encourage everyone, if you can financially, to make a regular monthly donation to Public Source and Environmental Health News. They are doing great work. Check out Good River: Stories of the Ohio in which both news outlets are a contributors. It's fantastic. I especially liked 360 degrees of the Cheat River: A journey to revitalization on an Ohio River tributary.
---
In addition to the thank you to Oliver Morrison, Public Source, and Environmental Health News, I'd also like to discuss the original Flood Commission of Pittsburgh which was touched upon at the end of the article. The original Flood Commission of Pittsburgh without question realized the importance of having someone from the press to spread their message and gain the public's confidence and support.
The Flood Commission also had influential leaders both from business and politics that knew how to get things done. H.J. Heinz was their president. Just take a look at everyone involved on the Commission from their 1912 report:
The original Flood Commission of Pittsburgh was aware that solving this issue required a gargantuan effort from experts from several disciplines. In 2020, we need to do the same. Here's who's needed:
Representatives from grass roots neighborhood level watershed organizations

. Many of their names and faces were in the article. These people are passionate and knowledgeable about the subject and will ensure equitable and just outcomes for all. These organizations include the Allegheny County Conservation District, Allegheny Watershed Alliance, Girty's Run Watershed Association, Watersheds of South Pittsburgh, Nine Mile Run Watershed Association, 3 Rivers Wet Weather, Friends of the Riverfront, Riverlife, to name a few. There are likely many others that I am missing.

Leading experts that know about water related issues and land use planning

. Engineers, planners, landscape architects, local academia on the cutting edge of the latest science, US Army Corps of Engineers, and the Green Building Alliance to name a few.

Business representatives from the health care, finance, technology and real-estate industries

. You know, the usual suspects: UPMC, Highmark, PNC, Covestro, Greater Pittsburgh Chamber of Commerce, Allegheny Conference on Community Development, and Southwestern Pennsylvania Commission. I'd even toss in Duolingo, Google, and Facebook into this discussion as they are trying to attract the brightest minds to come and live in Pittsburgh and work for them. The region is losing millions of dollars in health costs and property damage related to flooding. Climate change projections are not exactly painting a rosy picture. We've just had two of the wettest years ever on record in 2018 and 2019. Are they not concerned about this issue? They should be.

Political leaders from the County and Municipalities

. More specifically, leaders that are willing step up and potentially say things that may be unpopular. For example, the issue of government funded property buyouts in flood prone areas. Councilman Anthony Coghill should be praised for his willingness to speak openly in the article about property buyouts. We need more leaders like him.
Finally,

members of the press

are needed to help spread the word to the public.
In closing, I would like to make a call to action to all of us in 2020. I suggest that by the end of the year we revive a Pittsburgh Regional Flood Commission. And in doing so make it transparent and open to the public so that journalists like Oliver Morrison can report on the progress.
Maybe leaders at the Allegheny Conference on Community Development and/or the Southwestern Pennsylvania Commission could lead the charge? I'm not entirely sure who is the most appropriate organization with the greatest influential reach, but those two make sense to me. I hope Oliver Morrison's article somehow inspires someone to take action.
Because if not now, when? What exactly are we waiting for? It's a new decade and it's time for action. As I said to Oliver and as I was quoted in the article "this isn't going to fix itself."
In the meantime, I'll keep on blogging.
*Author's note: the blog went from 20 to 30 subscribers and one of them was my sister, but I'll take it!